Why Are Websites Focusing On Mobile First?
More people are using phones than PCs in 2019. On top of that, it is has been reported that around 50% of traffic comes from mobile and if your website isn't optimized for cell phones… be ready to lose a vast majority of this traffic.
So what does this mean? It means, we should all be thinking from a "Mobile First" standpoint, and begin our projects starting at the cellular level (see what I did there?).
Mobile is the future! With billions of dollars being spent every year on mobile devices, it is loud and clear that your cellphone is the key to your business. Living a mobile-first philosophy through your website and marketing funnels will only lead to massive growth, due to this massive increase in consumer spending habits.
Its 2019 and mobile has been around for quite some time. But with home assistants becoming more popular, and our handheld devices becoming more powerful, it's only a matter of time before the majority phases out of desktops completely.
That doesn't mean desktops will be eliminated from existence. They will still be around for work and things like gaming or video editing.
But what about the average person that doesn't need a desktop for work and has no interest in video games? Well, it seems they would have very little use to have a large desktop taking up the home office… so this means that most of their daily tasks online will be handled by either a cell phone or tablet.
When it comes down to it, every web designer should be using a "Mobile First" methodology when planning out their projects, and build from a Progressive Advancement stance, rather than through Graceful Degradation.
Progressive Advancement: Build from the ground up. Start at the lowest version of a mobile browser that you deem acceptable, and start to build from there. Then, add in complex elements and a desktop version after you have completed the mobile version.
Graceful Degradation: Building from the top down. Start at the advanced version and add in all of the complex functionality at the beginning, and then remove features as you continue to work on the mobile versions.
Innovative and creative thinking is what wins over customers these days. If you aren't ahead of the curve, then you are already way behind!
Everyone's On A Mobile Device These Days
The world is infatuated with mobile devices. They sell like hotcakes, and we as humans just can't get enough of them. We spend a majority of our time on mobile devices compared to desktops, and we are buying more products than ever through apps like Amazon and eBay.
It is impossible to not be thinking of mobile devices first when starting a new website. Your site should be designed from the ground-up built on the foundation of mobile aptitude.
A millennial will spend nearly 5.7 hours on their cell phone per day with boomers following closely behind at 5 hours. People of all ages are spending a drastic amount of time on their mobile devices every day. So as a business owner or web designer - why wouldn't you start your project planning at the mobile level? It just makes sense.
Now, we are going to go over a few key reasons and benefits to having a fast and secure mobile website that is responsive on all devices.
Your Website Needs To Be Responsive
Responsive web design is nothing new to the online world, so we won't delve into it for too long. Designers use responsive web design to create websites and applications that fit on any screen size or resolution.
It is the foundation for mobile web design. To go a little deeper into responsive web design, we will use an infographic crafted by the designers here at Go Top Shelf.
In the infographic, you can see tons of statistics that relate back to why you need a responsive website. Some highlight statistics are that over 50% of ecommerce revenue comes from mobile, and 90% of consumers use multiple devices to access the same website.
These are huge numbers!
If you're running an ecommerce store that isn't responsive - you could be losing up to 50% of your revenue, and most of your return customers because they can't access your site from their mobile devices. These are massive losses for just about any company out there.
So make sure your website is mobile responsive and works correctly on as many devices as possible if you want to succeed in today's digital landscape.
Your Website Needs To Be Lightning Fast
Mobile sites are meant to be lightning fast. That means you need to eliminate any elements that are slowing your pages down and keep your load times to under 3 seconds.
Users DO NOT want to spend their day looking at buffering symbols as they look for information or a product to buy. This could be the deal-breaker between selling your product or losing a customer forever.
3 seconds is even too long if you want to really capture all the traffic coming to your site. The main goal here is to keep load times under 1 second. This will let you gauge your website's traffic and click-through rates without having to worry about load time affecting this data.
Why? Because barely anyone is going to leave your site if it loads instantly (other than the odd misclick here and there).
Page load speeds are the biggest contributor to bounce rates on websites presently. For some reason, website owners tend to put this factor to the back of their minds, when Google is putting more and more influence on page speed as time goes on.
You can use Google's free page speed analyzer to see how fast your website loads, and if it's up to Google's standards. This is a wonderful tool that can really share some insight into what you need to do to fix your website.
Some common occurrences that lead to slow loading pages are:
Slow server - A slow server that isn't properly setup can lead to a myriad of problems you will have to solve to increase page speed
Unoptimized images - Large images that haven't been optimized are a major culprit for slow loading webpages. You can use a program like PhotoShop or a plugin like Smush to reduce the overall file sizes of your images
Too many resources being called upon - If you have too many scripts or other resources being called upon, this can slow your website down substantially. You can fix this by optimizing your scripts so that they load quickly and at the correct times
Lack of Responsive Web Design - Websites that lack basic responsive design components load much slower on mobile devices. Fix this by implementing a responsive web design into your site
If your website is suffering from any of these problems, you have a slow loading website. You have to fix these problems right away or fall further and further back in Google's search index. They really don't like unresponsive, and slow loading sites.
What's Next?
Once you have started to think in a "Mobile First" fashion, you need to start thinking about how you are going to stand out from the crowd. How will your site compare to your competition? Is there anything else you can do to make your site unique and creative?
In order to stand out, and unlock the unique qualities of your site - you need to be constantly innovating.
Doing what's tried-and-true will only get you so far. Sure, it works. But is it gonna boost you to that next level?
Coming up with new ways to interact with content is a great way to bring users into your site and keep them locked in.
If you are looking to increase your user's session lengths, then this is the route for you. Keep your content interesting, palpable, and alluring to draw the user in more and more.
When you begin to add in elements of suspense or action, the user is compelled to check them out and will be on the site for longer amounts of time. Once you begin implementing these elements into your mobile designs you can start to see a dramatic rise in user interaction and satisfaction - Which leads to higher conversion rates (and we all know conversions means $$$)!
A good example of this is how designers are preparing for the upcoming release of Samsungs new foldable Galaxy phone line. What do you think designers are going to do to make the most out of Samsung's newest foray in the smartphone world? Let us know in the comments below what you think!
Remember: Make sure to all of your cool changes and innovations are supported by mobile browsers and do lots of testing
Conclusion
Mobile device technology has been on an accelerated path in the last few years. Companies are releasing new and improved versions of their products on an annual basis regularly.
In order to keep up with this level of advancement, we need to stay diligent as marketers and webmasters.
This begins with a "Mobile First" mentality. When you see a new device gets announced, what are the first thoughts that come to your head? I immediately start to think about the different ways designers are going to have to change their methods to adjust to the new device.
What problems have you had when it comes to Mobile? Do you have slow load times and can't seem to figure out why? Or could you not get that menu bar to work properly on an iPhone?
There are so many issues out there that one can have when dealing with mobile optimization, and we'd love to hear how you solved or handled your problems below in the comments!
And, as always, if you are in need of help dealing with any sort of mobile catastrophe, Go Top Shelf is here to help in any way possible.
Real estate referrals get you higher quality leads for your business than any other strategy. Read on to find out how to get more referrals from your clients.
What is real estate PPC? Why should you use it for your business? Here's everything you need to know about pay-per-click advertising for realtors.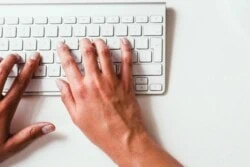 Whether you're a legal firm or a real estate agent, it's important that you get eyes on your landing pages. Here's how to do landing page SEO in 9 steps.
More Articles From Our

Blog
Real estate referrals get you higher quality leads for your business than any other strategy. Read on to find out how to get more referrals from your clients.
What is real estate PPC? Why should you use it for your business? Here's everything you need to know about pay-per-click advertising for realtors.