6 Reasons to Invest in a Website Redesign
They say don't judge a book by its cover, but for a business, a successful website design is its first step towards becoming a NY Times bestseller. Today, it only takes a user 50 milliseconds (that's 0.05 seconds) to determine whether they are staying or leaving your site (most likely for good). So it's important to impress users at a first glance.
During the process, business owners get distracted by appearance, and while that is fair, it is not the sole solution to better web design. Before owners plan their redesign project, a website needs to blend appearance, functionality, and a deep understanding of its target market to create a seamless user experience.
Websites that facilitate a good user experience are more likely to reach their marketing goals compared to businesses with a poor UI/UX interface. In 2008, Wal-Mart decided to redesign its website for a cleaner image after surveying customers. It resulted in a less decluttered design, and while it looked cleaner, lost $1.85 billion as a result.
If you haven't been gaining the traction you want, this article covers various reasons how your website may be affected by this. But don't worry, we also have solutions for these design issues.
Your Website Is Out of Date
Let's address the elephant in the room: your website design no longer resonates with the target market and is out-of-date. That isn't to say it's terrible, but it isn't modernized and doesn't catch their attention either. Like I mentioned in the beginning, you only have 0.05 seconds to impress your audience before they hit the back button.
When consumers see the home page of a website, they interpret it as how well the owner manages their business. Outdated designs give an impression that if owners overlook the state of their website, they have most likely overlooked other important aspects of their business.
As privacy concerns grow over data, outdated websites are more subject to hacks and security breaches, especially ones without an SSL certificate. So if your website doesn't have a lock icon in the address bar, not many people are going to stick around.
Users look for websites that offer solutions; they place a higher value on companies that are professional, forward-moving, cutting-edge, and are up to date in their industries.
A company can be all that but without a current design, it creates a disconnect and questionable credibility. Overall, a website with an outdated design causes confusion, frustration, and questionability among users who are looking for a solution to their problems.
Your products and services could be the right fit for them, but not your website. Find an experienced web designer if you're not sure where to begin—you'll see the quality of their work based on their portfolio and testimonials.
Your Site Isn't Responsive
Nowadays, people do a majority of their activities through their phones, from banking to food deliveries, and web browsing is no different. You could very well be reading this article on your phone as we speak.
Responsive web design (RWD) creates dynamic changes to the appearance of a website, based on the screen size and orientation you're viewing it at. Without RWD, users would struggle with unnecessary resizing, scrolling, and panning. This creates more work on the user's side to navigate the website or causes frustration and they leave.
57% of users say they wouldn't recommend an unresponsive website on mobile since consumers do not have the patience for a poorly optimized website. In 2020, Perficient released a study on mobile versus desktop usage and discovered that 68.1% of retail website visits came from mobile.
Google is constantly improving its search rankings, and as of 2016, has penalized non-mobile-friendly sites by dropping their position in search results. Responsive design will promote a better mobile experience for users, prompting them to stay on your website longer, increase website traffic, and increase search engine rankings.
Improve Page Speed
Do you remember the painful days of AOL dial-up internet? Me too, and we're all ready to put that behind us.
Page speed has become an integral part of a good user experience, so much that Google even factors load time into its search engine rankings.
Maile Ohye, a developer at Google stated in a Google Webmaster video, "2 seconds is the threshold for eCommerce website acceptability," The same average loading time users are willing to wait. Websites that take longer to load have a higher bounce rate and negatively affect conversion rates.
The best solution to this issue is to optimize your code without sacrificing the user experience. A few good practices to go by are:
Optimize your code
Minify CSS, JavaScript, and HTML (remove unnecessary characters) to increase page speed.
Fewer redirects
Each time you redirect a customer on your site, they have to wait for an HTTP request-response cycle. The more redirects there are, the longer response times are.
 Optimize images
Upload files that are optimized for the web. Make sure they are not bigger than they need to be for quicker loading. As a rule of thumb for most images, I try to keep them below 100 kb, but for larger images like background images, I tend to keep them below 250 kb. This will reduce the size of your pages drastically.
You can also use a plugin like ShortPixel to optimize your images for you directly on your WordPress website. This is especially useful for large ecommerce sites that need lots of optimization done quickly but don't have the time to do it manually.
Enable browser caching
Caches are a great way to cut down on load times since the elements of the site are already stored in the user's browser after their first visit. Their next visit results in much shorter loading times.
If you have a WordPress website, WProcket is an exceptional plugin that can dramatically help with page loading speeds. I highly recommend checking it out.
You are Rebranding Your Company
As your company grows, it's natural to want to rebrand to match your current target market. Rebranding revitalizes a company's visual aesthetic including logos, colors, layouts, and content. It's a necessity to keep up with modern trends—remember when Google rebranded its logo from serif to sans-serif?
Rebranding involves the entire website. If any of the design elements are out of line, users will notice this. Create a consistent layout for all the pages on the website; we want to remove ourselves from the old brand as much as possible.
Creating a brand book to act as a guideline helps reinforce consistency throughout your design practices. The brand book acts as a guide on the colors to stick to, logo usage, photography rules, fonts, iconography, and much more.
It will create a cohesive image within the customer's mind, from products to social media posts. 75% of consumers admit to making judgments on a company's credibility based on the company's website design. Consistency creates brand trust, trust turns to loyalty, and prospects into leads.
You Want To Optimize Your Conversion Rates
If you find that you have an adequate amount of website traffic, but your conversion rates are low, it's time to reevaluate your website design. A large part of influencing conversion rates is through having an exceptional user experience.
There are numerous factors to get increased conversion rates. Good design leads your user in the customer journey from the landing page to the shopping cart.
A part of this includes an easy-to-use user interface--they know where to find everything at a glance, including About, Contact, FAQ, Products, and Checkout. Readability is always the main point in any visual design and websites are no different.
A great way to test out how well the new changes perform is through A/B testing. This method compares the data between the old and new designs and based on the numbers you can see whether you're headed in the right direction or not.
You Need a Custom Solution for Your Website
As businesses grow, they will want to incorporate more functions into their website to streamline the customer experience. This could be advanced client account portals and dashboards, eCommerce CMS systems, booking portals, or advanced design techniques like parallax scrolling features.
As more features are added to the website, some plugins just won't do. It might be time to find a custom website development company.
Custom development teams give a personalized touch to your brand and a unique user experience that isn't limited by templates or themes. Plugins on the other hand occasionally have bugs and errors, a lack of customization, and white labeling. They have been a source of slow page load speeds and terrible user experiences.
However, custom websites give users the freedom that comes with a custom build to respond to business changes swiftly. Additionally, businesses are not tied down to one hosting company.
Custom websites have the option of selecting a hosting company that provides certain benefits such as automated file and data backups, customized backup locations, optimized setup and configuration for your selected CMS, or direct server performance and uptime monitoring to suit your business needs.
Custom websites are only limited by budget. Whatever functionality or features you desire can be implemented, making it a great option for businesses looking to up their game and distinguish themselves from the competition.
Conclusion
Websites are now the face, selling point, and defining feature of a business. A good website design needs to be modern, load in two seconds, and be responsive on different devices for an optimal user experience.
Customers take into account how much an owner cares about their business based on how well-maintained their website is. If customers have to suffer through poor UI/UX design, they are less likely to come back, and it affects conversion rates negatively.
There a numerous reasons for a website redesign, but if you felt your website could have fitted into any of the categories, maybe it's time to take a look. Improving your website design leaves a strong impression on users. A positive user experience leads to repeat customer rates and ultimately, higher conversion rates.
As always, if you're uncertain how to make the most out of your website, contact experienced website designers for their skills and expertise. With their help, your website has a better chance at ranking higher in search engines, beating competitors, and creating a lasting impression on buyers.
Real estate referrals get you higher quality leads for your business than any other strategy. Read on to find out how to get more referrals from your clients.
What is real estate PPC? Why should you use it for your business? Here's everything you need to know about pay-per-click advertising for realtors.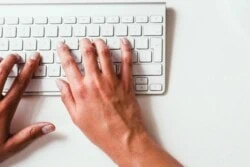 Whether you're a legal firm or a real estate agent, it's important that you get eyes on your landing pages. Here's how to do landing page SEO in 9 steps.
More Articles From Our

Blog
Real estate referrals get you higher quality leads for your business than any other strategy. Read on to find out how to get more referrals from your clients.
What is real estate PPC? Why should you use it for your business? Here's everything you need to know about pay-per-click advertising for realtors.