Top 5 Ways To Drive Traffic To Your Blog
Have you just started a blog? Having a hard time driving traffic to your blog and you're wondering how to increase the flow of visitors to your articles? Well, today's your lucky day.
Getting traffic to your blog can feel like quite a struggle when you're first starting off… you put in tons of effort researching, writing, and sourcing the best information and pictures to share with the world, just to come up short with 3 visitors each month! That's NO GOOD!
So that's why in this post, we're going to present 5 different ways you can drive more traffic to your blog. These are the methods we use to this very day, and have been proven to work on many different blogs across the web! So without further ado, let's dive straight into it.
Search Engine Optimization
Search Engine Optimization (or SEO for short) is still probably the #1 method for driving traffic to your blog in 2019. Marketers and website owners use SEO to rank pages/articles on Google and other search engines like Bing or Yahoo.
So it should be apparent that getting your articles ranked on Google will lead to more traffic, right? Right! But it's not that easy.
See, SEO involves many different on-page and off-page factors that can lead to your article getting ranked. Here is a list of some of the factors:
Keyword difficulty and Search Volume - a keyword with a high difficulty means it has LOTS of competition, and will be harder to rank for. If it has a low search volume, it means no one is searching for it, so you DO NOT want to aim for this keyword. You can use tools like

Ahrefs

to find out about this type of information.

Domain Authority - Your domain is your root URL, which for us would be

https://gotopshelf.com

. Each and every website on the web has an authority rating dictated by either

Moz

or

Ahrefs

. The stronger your authority, the easier it is to rank higher in Google. One of the best ways to increase authority is by getting links back to your website or articles.
I could keep going on all the different factors that can affect rankings. But if you need more information you can always check out our SEO guide to make sure you are well versed before taking the leap forward optimizing your articles.
Social Media
Social media is a powerful tool that can be used to promote almost any business in the world. Being able to harness this power and put it to use is a valuable skill that shouldn't be taken for granted. If you are the proud owner of a strong social media following, then blogging is the right thing for you.
Even if you don't have a strong or massive social media following, these channels can still help you grow your blog extensively. Apps like Instagram and Pinterest have incredible value for building organic followings, where websites like Facebook truly shine within their advertisement sections.
So that brings us to our next point… if you want to build your traffic through social media while building your followers at the same time, you have two different options.
Unpaid Promotion / Organic
This is the long-haul game. A truly consistent blogger can go for this route and over time, can build an extremely strong following that will back the blogger up when he/she needs it.

Takes lots of time to build up without the help of paid promotions

Needs to constantly remain within the eyes of their followers
Paid Promotion
This is the short-term game. Any blogger is able to promote their articles with extra money they have. Strong affiliate marketers make a killing from their blogs by boosting their money making articles with paid advertisements to help sell affiliate products.

Some tips for paid promotions: remember, do the proper research before starting a paid promotion campaign on any social media channel. Find out who you want to target. What are your demographics? What do they like? How can you attract them to your post in a simple Facebook ad? These are the questions you need to ask yourself before starting a paid promo campaign.
Some other ways you can effectively drive traffic to your blog from social media include:
Write Captivating Headlines & Captions
Write creative and captivating headlines/captions for your posts that evoke emotion and spark curiosity. Stay away from the plain Jane crap of today. Humans are emotional creatures and thrive off of what they feel! By creating an emotion inside your reader, they will become instantly connected to what you are talking about. And boom, you now have a new follower.
Create A Listicle
A listicle is an article written in list format. They are used for counting down a list of best products, a list of  funny images or videos, and much more! They are easy to skim through and get information from quickly, and people relate to them really well.
One of the best parts about listicles is the ability to find targeted information inside of the content quickly. Each one of your points can be a different avenue for bringing in traffic! On top of that, people can reach and quote from each individual point as well. The possibilities are endless for a good listicle!
Check out this article from Vegibit for more information on how to write a good listicle. The article is written in listicle format so you also get a good idea of how they are laid out! What a great resource!
Guest Blogging
Guest blogging has been a tactic for increasing traffic to blogs for what seems like a millennia… but in 2019, guest blogging is a very targeted practice that should be done with care.
Google has started to take notice of guest posters, and has even stated that they don't like the practice very much.
However, that doesn't mean the practice is dead. Just like public blog networks, Guest Posting still holds a ton of power today and can be easily used to build links and bring more traffic to your site. The key is how you execute your plan.
Some tips to get you started guest blogging:
Make sure your content is only posted on ONE other website

- if you didn't know, having duplicate content on your website that is the same on another website is a big NO NO! Make sure you aren't posting your article on every site you get your hands on. This will bite you in the bum big time!

Research the person/company you are trying to contact -

Make sure they are accepting guest posts, and that the content is relevant to their site. You want to try and avoid getting back any nasty emails telling you to get lost!

Make sure to follow up at least 3 days after your initial email -

Follow-ups are one of the main reasons people's guest posts are accepted. Most people have busy lives, and their emails can easily fall to the back of their mind… send a follow-up email to revive your chances at getting that guest post.
Quora
Quora is a place to ask questions about anything. Experts from all sorts of different industries and backgrounds will come together and help answer your question for you! That is the main premise of Quora.
So how can it help you drive more traffic to your blog? Well, put simply, it gives you all the resources you need to find hot and spicy questions your consumers are asking about.
By researching your blog's topics on quora, you can find popular questions about that topic right on the website with the answers included. This is a perfect opportunity for the blooming bloggers to get their hands on valuable content they can become the "expert" in. Even if you're not a newbie, Quora can be used to dissect tons of important questions that people need answers too.
You can even find blog post ideas by searching up a generalized topic, and finding a niche question that everyone wants to know about, but no one is answering. Create a new blog post on your website that answer this question and anything related to it. After a while, you will begin to rank for this keyword, and watch the traffic start to pour in slowly but surely.
Want even more options for building your blog up with Quora? Check out this awesome article from DreamGrow on how to do just that!
Conclusion
In this week's blog post, we talked about the many different ways you can attract traffic to your blog. It can seem tough at first, but Rome wasn't built in a day! And neither was this blog. It's through hard work and determination that your blog will become successful!
Remember, that content is king. Your articles should serve a purpose other then just bringing people to your website. Make sure every post you create holds value that the user will be able to learn from. Answer questions, share facts, and do your duty as a blogger to bring the best content you can to your audience.
Follow the tips we gave you today, and you will see your blog traffic grow considerably over the next 3-6 months (unless you do some paid promotion).
And remember! Never Stop Blogging!
Real estate referrals get you higher quality leads for your business than any other strategy. Read on to find out how to get more referrals from your clients.
What is real estate PPC? Why should you use it for your business? Here's everything you need to know about pay-per-click advertising for realtors.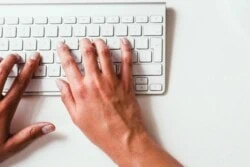 Whether you're a legal firm or a real estate agent, it's important that you get eyes on your landing pages. Here's how to do landing page SEO in 9 steps.
More Articles From Our

Blog
Real estate referrals get you higher quality leads for your business than any other strategy. Read on to find out how to get more referrals from your clients.
What is real estate PPC? Why should you use it for your business? Here's everything you need to know about pay-per-click advertising for realtors.