Scaling Your Website Across Multiple Platforms With Responsive Web Design
According to Google, 90% of people move between devices to accomplish a goal. Sometimes that's sequential use, and sometimes it's simultaneous, regardless, the screens on these devices are rarely the same size - that's where responsive web design comes in.
Furthermore, not all screens work in the same formats – landscape, portrait, or even square. But as viewers, we take it for granted that no matter what device we pick up, our favourite websites will look good because of their highly responsive nature.
The magic of technology has increased our expectations, and if your website does not seamlessly respond to changes in formats and screen sizes, potential customers will look somewhere else.
What is Responsive Web Design (RWD)?
A key part of communication is being responsive. If you talk to a Chinese person in French the conversation probably won't progress very far. If you want to communicate, and that's the main point of your website, you must find a common language.
Responsive Web Design reacts to the device your customer is using, giving them the best user experience possible – whether they're accessing your site on their mobile phone, a computer, or a combination of both. This way potential customers don't get frustrated with your website.
Tips for Creating a Responsive Site
Start with Mobile – Start with what your website needs, and create a small, fast-loading site that mobile users will enjoy.
Prioritize – Know what you need to convey your brand and make the mobile site revolve around that.
Easy Clicking – Clicking with a mouse is easy, but it can be incredibly frustrating on a touchscreen device. Make sure those CTA buttons are large enough that big fingers on small screens can still find them.
Make it fast – No one wants to wait for a website to load, and that goes double for mobile users. Ensure your site is optimized for speed and not bogged down.
Test, Test, Test – Your responsive site has to deal with different browsers, different users, and different screen sizes, which means it's easy for your site to fail. You want to find that failure before your site goes live so your site will work across multiple platforms while giving your users a positive experience.
All Hail The New King – Mobile Ready Sites
Computers used to be king, which meant you designed your website for a standard computer monitor. But in an increasingly interconnected world, computers are losing market share in favour of the cellular phone, which claimed top status in 2014.
Here's some reasons why:
Portability
If the cell phone is king, then its throne is, fittingly, the komode – up to 75% of Americans take their mobile phone with them to the bathroom. And what they're doing with that phone – whether in the bathroom or not – is expanding. From interacting with social media to online shopping, people are using their mobile phones more every year, and that means ignoring cell phone users is ignoring a large chunk of prospective clients.
Consistency
By having your website scale, you can offer your customers a consistent, positive user experience regardless of the device they use. This means they can find your site on the go, bookmark it, and then make the purchase later on their desktop – or right then and there.
Social Media
If you have a strong social media strategy, a responsive site is even more important. Social media is driven by mobile browsers, but if one of those potential customers clicks a link on their phone, and is directed to a site optimized for a desktop browser, the chances of retaining a customer or making a conversion is small.
Retention of Customers and Conversion
People are not tied to any specific screen anymore. They may start on mobile, then move to a desktop, or find your website on a tablet then move to a cell phone to keep in touch as they move. The longer you keep someone on your website, the greater chance you have of converting their attention to a sale, and an unresponsive website will encourage browsers to leave your website when they swap devices.
SEO
Google likes responsive websites. That in and of itself is a great reason to create a responsive site. SEO can seem like a mystic art, but a responsive site is one thing that Google execs, and people from most other search engines, have come out in favour of.
The Death of Mobile Specific Sites
Your website has to take mobile users (who flip between portrait and landscape modes), into consideration, along with tablet users, laptop users, and desktop users– the whole gamut. In the past, companies have used separate mobile sites to make browsing easier for mobile users.
But mobile specific sites have fallen out of favour for three main reasons:
Separate sites inhibit sharing on social media - If you share a mobile site from your cellphone, and I open it up on my laptop, the site will be a pain to navigate.
Having two websites multiplies the cost - Obviously, maintaining just one site is not only easier, it's cheaper as you don't have to pay for another round of hosting, domain name(s), etc.
Google doesn't like these sites - It's easier for Google to index your site if you just have one. This makes their job to police content much easier.
Responding to Current and Future Trends
Technology is in a constant state of change. There's no perfect seer out there who can tell you what size of screen will be the most popular next year or next decade. But with a responsive website, that level of foresight becomes less important. By making it responsive, you are giving it the possibility of responding not just to current demands, but to future demands as well.
Real estate referrals get you higher quality leads for your business than any other strategy. Read on to find out how to get more referrals from your clients.
What is real estate PPC? Why should you use it for your business? Here's everything you need to know about pay-per-click advertising for realtors.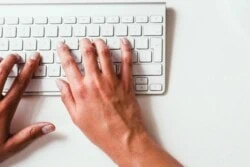 Whether you're a legal firm or a real estate agent, it's important that you get eyes on your landing pages. Here's how to do landing page SEO in 9 steps.
More Articles From Our

Blog
Real estate referrals get you higher quality leads for your business than any other strategy. Read on to find out how to get more referrals from your clients.
What is real estate PPC? Why should you use it for your business? Here's everything you need to know about pay-per-click advertising for realtors.