6 Tactics for Scaling Your Business in 2020/2021
It's no secret that marketing strategies and business models change over time with the advancement of technology and the evolution of consumer behaviours. 
However, the key to scaling a business is knowing when to let go of the traditional method and put more time and effort into your foundational purpose. A tactic backed by many successful entrepreneurs who have quickly and successfully scaled their businesses.  
Having a business reliant on the traditional Marketing Mix of the Four P's (price, promotion, product, and place), though still relevant, are not the only factors to consider when trying to grow a business.    
Read further to learn more about what it takes to successfully scale your business.
What this article covers:
What is scaling a business? 

Scaling vs Growing a business

Knowing when to start scaling your business

6 tactics for scaling your business in 2020/2021
What Does it Mean to Scale a Business?
Scaling a business is how you implement your business model to create a foundation for sustainable growth. In other words, it's creating a system that enables an increase in business without overwhelming or weakening your operational system. 
The question to ask when considering scaling is, does your business have the capability and capacity to accommodate growth?  
Scaling a business and preparing for growth requires a number of efforts to ensure stability, these include planning, funding, staffing, investment in technology, and partnerships.  
What is the Difference Between Scaling and Growth 
Though subtle, in business terms scaling and growth are very different. 
Growth is defined by an increase in revenue, whereas scaling refers to the increase in revenue without increasing costs of production. The end goal of scaling is being able to grow in revenue, while maintaining production costs, resulting in increased overall profits. 
Just a quick reminder that Profit = Revenue – Costs. You can learn more about how it's broken down here. 
Therefore, if your overall costs (including fixed and variable costs) directly increases with your revenue, then your profit will remain the same, or in some cases decrease.
For instance, if you have a service-based business and you gain a new client to deliver goods to, that's an increase in product delivery, which may require hiring another employee to accommodate the increase in revenue – that's growth.
As opposed to if you can keep your fixed costs and variable costs relatively consistent with growth in business, with an increase in revenue, your profit increases as well. 
Meaning, if your current team is able to deliver all production requirements for the new client without the need for additional resources – that's scaling a business.  
This is why creating a scalable business is crucial to its success.
What are Signs that You Need to Scale-up Business 
There is no magical formula (yet) for identifying the exact time that is right for scaling your business. 
As Richard Branson, a world-renowned and successful entrepreneur states, "You never know with these things when you're trying something new what can happen — this is all experimental."
However, there are some indicators to pay attention to identify when it's the right time to start scaling your business.
Some of these include:
Are employees overwhelmed with their current workload? 

Do your leads continue to increase? 

Is there enough demand for the product or service you offer?

Has your business updated to the latest technology?

Are all financial matters in order?
If you find yourself turning down a business opportunity because you don't have the capacity and capabilities to afford the extra work, or if your sales team are well-surpassing sales goals and your business has stable cash flow, then it may be time to scale your business.
Now let's talk about the business scaling strategies.
Top 6 Tactics for Scaling Your Business in 2020
1. Know Your Endgame 
As stated by Tim Ferriss, who is listed as one of Fast Company's Most Innovative Business People and named as one of Fortune's 40 under 40, "finding your ultimate business goal is the most important factor for being successful".  
Once you determine the milestone that the business is trying to achieve, you create a clear understanding of where your business is heading. That clear direction is key for not only getting your business on the right track but also aligning employees on the same path as well. 
A clear business direction is a key to building a successful company.  
2. Keep Processes as Simple as Possible 
As Forbes states, "flexibility can be the enemy of growth. It can be hard to admit, but managing the operations by hands-on involvement of founders will eventually limit growth."
In order to scale a business, managers and leaders need to establish standardized procedures with proper delegation. Meaning, the company may need to invest in IT and regulated training. This includes investing in Customer Relationship Management systems (CRM), Inventory Management Software, Spend Management Software or even Human Resources Management Software (HRMS).
This way, timely mundane tasks can be handled by less labour, allowing for leaders and senior management to focus on working towards bigger goals. 
3. Find your A-Team and Build collaborations 
Not everything needs to be done internally. The most successful and profitable businesses have learned the importance of knowing when to hire internally and when to outsource.
For instance, when initially starting a business, there tend to be more employees who wear multiple hats. However, as the business grows you need experts who focus on a single component in order to improve and streamline processes, thus sustaining quality. 
4. Know Your Customers 
Blindly targeting customers could work in the short term, however truly understanding the needs of your demographic are crucial for scaling your business.
You need to fill the gap between needs. The consumer's needs can sometimes differ from what your business is targeting.  
That's why it's important to ask the following questions to make sure the two are aligned:
Who are your customers?

Why are they buying?

What makes them buy your product?

What do they think about your company?

What do they think of your competitors?

 What do they expect from your company?
5. Milk Your Competitive Edge
In the early stages, entrepreneurs give in to self-perceptions of where they want their business to go and what they want it to be. However, as a business begins to scale,  owners start to further understand the market and products better.
As this knowledge becomes clear, so does the unique competitive strength of the company as well. If you find that your company is better at providing one service over another, lean into that. Further, develop that strength and learn how to harness that throughout other company processes. 
6. Boost Marketing & Sales 
Note that Sales and Marketing are different.
"Sales and marketing are two business functions within an organization – they both impacts lead generation and revenue. The term 'sales' refers to all activities that lead to the selling of goods and services. And 'marketing' is the process of getting people interested in the goods and services being sold." 
You need to identify the difference and specialize in the coordination within separate teams.
Scaling Marketing Operations – This is where you can focus on long-term growth and deliver campaigns to impress customers and build perceived value.
Scaling Sales Operations – This is where you take a look at end-to-end sales. Asking if there is a sufficient flow of leads and finding a strategy to significantly increase the sales numbers. 
In a Nutshell 
Scaling a business starts with identifying your direction and fine-tuning every process to get there. 
Though investing in new technology and implementing the most efficient processes is crucial, it's not the only factor for scaling. 
Knowing the big picture and getting the whole team on board is what separates the fastest-growing companies over the rest. Appreciate those who are helping you and your company get to the big goal.
Then once you achieve your milestone – set another one.
Real estate referrals get you higher quality leads for your business than any other strategy. Read on to find out how to get more referrals from your clients.
What is real estate PPC? Why should you use it for your business? Here's everything you need to know about pay-per-click advertising for realtors.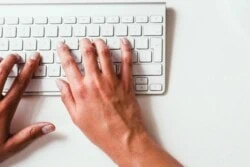 Whether you're a legal firm or a real estate agent, it's important that you get eyes on your landing pages. Here's how to do landing page SEO in 9 steps.
More Articles From Our

Blog
Real estate referrals get you higher quality leads for your business than any other strategy. Read on to find out how to get more referrals from your clients.
What is real estate PPC? Why should you use it for your business? Here's everything you need to know about pay-per-click advertising for realtors.