Top 5 Google Analytics Metrics Of 2019
Bringing traffic into your site can be quite a problem… but gauging that traffic and properly analyzing your visitors can also be difficult. Google Analytics is most people's traffic tracking tool of choice, and if you own a website, the service can be your best friend or your worst enemy.
Analytics is a data mining monster with countless metrics to track - but what are the most important factors to keep tabs on? In this week's blog post, we are going to take a look at some of the most important metrics that Google Analytics lets you peer into, and how you can use these metrics to your advantage.
What Is Google Analytics?
Google Analytics is a free tracking service (with paid options) that takes in a plethora of different metrics to allow webmasters to dig into the visitors of their website. You can see how they are behaving and browsing through your site, how many active visitors are currently on the site, and how many clickthroughs your site has received.
It is an essential tool for any website owner, and if you do not have Google Analytics setup - we suggest checking out this guide to see how to set up Analytics on your own site.
Our Top 5 Google Analytics Metrics
Traffic Sources
Bounce Rate
Conversions & Goals
Audience
Social
Traffic Sources
Acquisition > All Traffic > Channels
Whether someone ends up at your site through Google Search or through a social media channel - the route they took will show up in this section of Analytics. Being able to see exactly where your users are coming from is a huge deal, and you should be keeping a constant eye on this section.
The image above is an example of the traffic sources section in Google Analytics. In the graph on the top left, you can see a visual representation of your traffic based on four different areas: Organic Search, Direct, Referral, and Social.
Organic Search: The amount of traffic that comes to your website from search engines like Google or Bing!
Direct: The amount of traffic from people that directly typed your website's domain in their browser and visited the site afterward
Referral: The amount of traffic from people that found a link to your site from other websites (not including social media channels)
Social: The amount of traffic from people that found you on sites like Facebook or Twitter
These four traffic channels will help you analyze how your site is doing in several different ways. Organic Search can let you know if any recent SEO work is seeing results, and the Social reporting section can confirm if your recent Facebook ad campaigns are seeing returns.
It is very important to keep tabs on your acquisition and see what works and what doesn't. Getting traffic to your site is a game of seeing what works and what doesn't, and using metrics like this allows us to properly assess the situation your website is in.
Bounce Rate
Acquisition > All Traffic > Channels
The Bounce Rate metric is used to determine whether or not your visitors have left the page before entering a different part of the website. It is essential for conversion rate optimization (CRO), and can tell you if your site is providing visitors with what they are looking for or not.
In the above image, you can see three columns: Bounce Rate (%), Pages/Sessions, & Average Session Duration.
Bounce Rate Percentage: This is the percentage of visitors that "bounced" after reaching the targeted page on a website
Pages/Sessions: The average amount of pages that visitors who did NOT bounce went on to view
Average Session Duration: How long visitors have been on the website before leaving
Using these metrics, any webmaster should be able to see if their efforts are coming to fruition or not. A bounce rate below 60% is an ideal number for almost any site but the average differs depending on the industry you are in.
One effective way to analyze bounce rates is to check and see if any of your pages have high bounce rates. Afterward, check and see how deep other visitors are going into your site.
If some of your visitors are still making it through the different pages on your website, but you still have a high bounce rate - you could have a user experience or content problem. If a large majority are dropping off quickly (80%+), your site probably suffers from slow load times or server problems prohibiting the visitor from entering the site.
These types of metrics need to have constant attention. Bounce rates can effectively easily point out problems to you if you know how to analyze it.
Goals & Conversions
I know… technically speaking, conversions & goals are two different metrics. But they are so intrinsically connected that I can't help but throw them in one section together.
Now, let's get into why conversions & goals are so important to your website's success.
Goals
Conversions > Goals > Overview
Goals are created by you or your webmaster and applied to specific URLs with different parameters. Follow the steps below for creating a goal in Analytics.
Go into your Analytics Reporting section
Click on the 'Admin' button
Click on 'Goals'
Start to input the information associated with your URL
From here you can see several different fields like "Match Type", "Case Sensitive", and "Goal Values".
Match Type: This field has control over whether or not the URL needs to be an exact match. If any strings or queries are added to the URL during the process, these will NOT count if the match type is set to exact.
Case Sensitive: If you are using the same URL but with lowercase and uppercase letters that lead to different pages - check this box. Typically, you will leave this box unchecked
Goal Funnels: If you are in the process of setting up a sales funnel through your site - this metric is crucial. You can see how many people are dropping out of your funnel before completion, as well as much more information that can help you every step of the way. Remember, these only work if your visitors need to make their way through more than 3 pages in total.
Conversions
Conversions > Goals > Overview
After you have set up your goals, you will be able to gauge your conversions. Navigate to the "Goals Overview" section and see what your results are.
In this section, you can see the different metrics related to your overall goal conversion rate. Such as the number of goal completions, goal conversion rate, and total abandonment rate. You can also see which goals you have set up, and what their combined conversion rates are.
By using these metrics you can properly determine whether or not your audience is ending up in the right place at the end of their journey. This section is crucial for determining the next steps in your digital strategy as your site grows.
Audience
Audience > Overview
Google Analytics is an extremely powerful tool capable of segmenting your audience into their own demographics. You can do this by setting your own tracking parameters to take in data only from people between the ages of 18-25 or that live in a certain location. You can also use predetermined sets of parameters created by Google to help you better understand audience metrics.
In this section, we can see a variety of different metrics related to some of the other sections we just talked about with a few key differences.
Firstly, you can see all the different languages, cities, and countries your visitors are coming from.
Secondly, you can see what operating system they are using, what device they accessed the site on and even their service provider. Pretty in-depth stuff that can make even the most seasoned SEO feel like they know just a bit too much about their users.
By using this data, you can create a set of parameters so that Google only tracks 18-25 years old from Canada, and omits the rest of the data because it doesn't matter to your site.
Your site can have thousands of visitors per month, but if those visitors are not properly tracked and targeted - you are missing out on big returns from your traffic sources and revenues.
So remember the next time you want to sell t-shirts online to millennials, don't go targeting the 40+ range. Set up proper audience tracking, and dig deep into your target demographic.
Social
Acquisition > Social > Overview
The Social Reports section of Google Analytics is a great place to check if your social media channels are pulling in any sort of traffic. Analytics will do it best to find the exact point of entry for their visitor, and any other information it can pull.
As Neil Patel has stated in his own Social Reporting guide: "This is your 'figure-out-if-anything-is-working-at-a-glance-report'"
This is your Social overview. The graph at the top has information on the conversions taken from the goals you have set up. It then compares this information with the number of sessions that came from a social media website, and how many completed a goal.
This can be crucial information for anyone running social media campaigns or is thinking about running one themselves. Some sites like Facebook can be a little daunting and promise tons of results without backing up their claims. Use this reporting feature to make sure your ads are performing well, and the results are matching up with what you see in your Facebook or Twitter ad results panel.
Conclusion
Google Analytics is one of the best tools out there (free or paid) to help elevate your game online. The sheer amount of metrics it shows you are unmatched when compared to other free services. You can see where your visitors are from, what language they speak, and how old they are. Analyze your visitor's habits and behavioral flow throughout the site. The possibilities are nearly endless!
If you need help setting up Google Analytics on your website or simply need help gauging all of the information they are throwing at you - give us a call today to set up an appointment with one of our experts. We would be happy to help!
Real estate referrals get you higher quality leads for your business than any other strategy. Read on to find out how to get more referrals from your clients.
What is real estate PPC? Why should you use it for your business? Here's everything you need to know about pay-per-click advertising for realtors.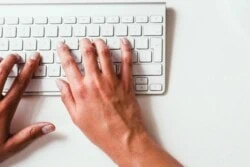 Whether you're a legal firm or a real estate agent, it's important that you get eyes on your landing pages. Here's how to do landing page SEO in 9 steps.
More Articles From Our

Blog
Real estate referrals get you higher quality leads for your business than any other strategy. Read on to find out how to get more referrals from your clients.
What is real estate PPC? Why should you use it for your business? Here's everything you need to know about pay-per-click advertising for realtors.