Social Media Website Evolution
The world of today has seen a huge surge in social media with billions of people interacting through different channels every single day. The way in which social media websites evolve is an interesting topic; But how well have these websites aged in terms of web design? In this weeks blog post - we are going to take a look at how social media website designs have evolved overtime. We will take a look at the different design choices they made along the way, and which ones they decided to stick with over the years.
Facebook
Facebook was originally created in 2004 by Mark Zuckerburg, and was founded on the premise of giving students in universities a network to connect with each other on. Users could see which clubs other users were apart of, which friends they were connected with, and a few other cool features that really helped the social media platform take off.
Facebook's homepage hasn't changed very much fundamentally over the years. In late 2005, when Facebook opened up its platform to more institutions, including high-schools, they released this design.
If we breakdown this page - we have the registration on the far left, with an excerpt on the right detailing the different benefits and uses of Facebook. There are three different places to login or register your account at. Simple and efficient.
Skip ahead two years to 2008, and it's easy to see the design we all know and love. Now, the registration has been moved to the right side of the page, with the value statement and some quips about how Facebook can help you connect with others on the left. This has been the style for their homepage for the last 11 years.
The present day look of Facebook's website isn't far off of their 2008 counterparts. When Facebook made their gigantic growth spurt in 2008-2012, they noticed something that worked and kept it that way - and that was their homepage design.
There is a lesson to be learnt from the evolution of Facebook's homepage - if you have something that works, there is no need for a complete overhaul of your design. Carefully test and execute small changes across your homepage, and see what works and what doesn't. The last thing you want to do is ruin a diamond in the rough that just needed a little TLC.
Twitter
Twitter was started on March. 21st, 2006, in San Francisco, California by the board members of the company Odeo. It is an online news and social networking service that enables users to be able to send short quips to their followers and other users. This was revolutionary at the time.
Twitter's original homepage was definitely not the best design I have ever seen… they had a pretty simple feed with a sign-in form on the right side, and some featured pages below it. This was back when mobile users would text their tweets to the Twitter services, where it would then post them on the website. This was done in a time before mobile browsing from smartphones and tablets...
In 2007, Twitter began to update their homepage to modernize their look (at least a tad). They were growing relatively quickly, and were gaining more and more users each and every day. They were still in the early growth stages - but they were able to build a massive range of users from all sorts of demographics in a short period of time.
They removed the feed off of the homepage, and added a nice value statement with several call-to-action buttons. Some new defining characteristics are the "What?" "Why?" And "How?" buttons at the top, and the magazine reviews at the bottom.
In 2009, Twitter made some big design changes, making their homepage much more modern and to their brand. By this time Twitter has made some serious waves through the digital world, and mobile browsing has started to pick up traction. In January of 2009, they rose to the third highest ranking social media network.
This homepage definitely flips the switch when compared to their older versions. They flipped its signup and login forms, adding a nice graphical background behind them, and changing the font colors to be cooler and more brandable to their logo. This is when the Twitter brand became the Twitter that we know today. Their identity was solidified in 2009 because of the branding choices employed by their talented designers.
By 2012, the Twitter homepage has evolved into a beautifully minimal take on a modern landing page. With the rapid succession of responsive web design, companies like Twitter and Facebook, needed to make the switch to a more device friendly look that is contemporary and makes a statement.
Twitter's homepage does just that, quickly establishing their value purpose and presenting a nice signup form to convert. It is simple but elegant and clean. Once more, it easily catches the eye of the user.
This is the Twitter homepage as of April. 9th 2019, and still shares some of the aspects from its earlier counterparts. Info on the left, signup/login on the right. One of the only differences is the simple login form up top.
It is easy to see how refined these homepages have become overtime. Taking what works, and testing new features to find a mix that truly brings it all together. Twitter's homepage is now the work of over 13+ years of testing and analysis, and there is something to be learned there.
LinkedIn
LinkedIn was founded in February of 2002, and is an employment and business oriented service that links employers/companies with potential candidates & client prospects. It is a professional network, and utilizes the people you have connected with, and the places you have worked to give you a better experience. Whether that's finding a job or a new potential client.
LinkedIn's homepage in 2003 wasn't over-the-top in anyway, but got across some valuable points that helped make it the powerhouse that it is today. One of the highlighted stats was: "if 20 of your connections connected to 20 other people, you could potentially connect with 150,000+ people!" They also used an email invite system at the beginning of their journey versus traditional signup forms.
By 2007, LinkedIn had scaled its model to become useful to both companies and schools. They introduced this by changing their homepage to help direct you to the correct place quickly and easily. Basically, are you a company, employee or student, and then connects them based off of that answer.
I think when you compare this homepage to some of its counter-parts (such as Twitter), I feel like LinkedIn was slightly ahead of its time. This is a really well done homepage for the mid-2000s, and is a big factor as to why LinkedIn was able to make such enormous leaps through the professional world.
Not only does this page quickly establish its value proposition to the user, it quickly dictates where that user should end up as well with little to no confusion. A professional network such as LinkedIn, needs a little bit more time and care put into its user experience versus a site like Facebook. The reason I say this is because LinkedIn is a much more complex platform then its other competitors, and requires a certain type of person to excel.
By 2008 they reverted back to the good ol' signup on the right, and information on the left. You could also search for someone by their name in the bottom. LinkedIn started to look more like its competitors at this time (Twitter, Facebook), and adopted some of the traits that helped make their homepages work.
In 2012, LinkedIn drastically transformed its look and completely re-architected the site to meet continuing digital standards. They introduced responsive web design elements throughout the website, and enabled itself to continue innovating. It is contemporary and professional. This is the start of the LinkedIn homepage as we know it today.
By 2019, LinkedIn started using the professional photos of its users as its background for their signup form. Personally, I think this is a brilliant use of negative space. The scrolling background shows many different faces from different backgrounds or careers, encapsulating the ideal that LinkedIn is for any professional in any business. An amazing design aspect that I think is overlooked. They also changed to a darker color palette that is easier on the eyes compared to conventional white backgrounds.
Conclusion
When it comes to social media homepages and feeds… they are lots of similarities and few distinguishing factors. Still, these companies continue to come up creative ways to establish themselves away from the crowd, and place themselves within niches that require their services.
In this article, we went over how several social media websites evolved from their inception to global powerhouse, and how their homepages were affected in the process. We touched on the different signup forms that these sites employed, and what made those pages click with thousands of users.
If you feel like we missed something about these wonderful websites, or just simply have a comment to make on the state of these companies in 2019 - leave a comment below! We would love to hear from you!
Real estate referrals get you higher quality leads for your business than any other strategy. Read on to find out how to get more referrals from your clients.
What is real estate PPC? Why should you use it for your business? Here's everything you need to know about pay-per-click advertising for realtors.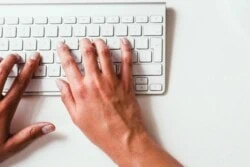 Whether you're a legal firm or a real estate agent, it's important that you get eyes on your landing pages. Here's how to do landing page SEO in 9 steps.
More Articles From Our

Blog
Real estate referrals get you higher quality leads for your business than any other strategy. Read on to find out how to get more referrals from your clients.
What is real estate PPC? Why should you use it for your business? Here's everything you need to know about pay-per-click advertising for realtors.