How to Boost Traffic And Make The Most Of Your Website
No matter how good a site is, it still has to be found by the right people. One of the most common questions I hear from clients when I talk to them about their website is: "Why isn't anyone coming to my website?" and "How can I fix it?". Today, we are going to talk about the different reasons why people may not be visiting your site, and try to provide solutions to these problems in a simple fashion so that you can start boosting your traffic right away.
Can Google find you?
Your site can be the prettiest & flashiest thing on the internet but if Google can't find it... that's a big problem! Lets try and go over a few of the reasons why Google is having a hard time finding your site.
Not Indexed properly
Google and other search engines like Bing and Yahoo, need to have your pages submitted to their index (which is just a catalog of web pages) in order to come up in their search results pages.
Indexing your site is easy to do and can be done through Google's search console. After you set up your webmaster account, you first need to verify ownership of your website by completing one of the verification steps.
Once the site has been verified, simply submit a sitemap and Google bots will start crawling your URLs and gathering up all your pages for indexing.
If you don't have a sitemap, you can use a plugin like Yoast for WordPress, or ask your web developer to create one for you.
No/Bad SEO
Search engine optimization, otherwise known as SEO, is the process of modifying your website's content and code so that Google can properly rank your site on search results pages.
If you are wondering where to get started optimizing your own site, check out our SEO guide. Beware though - optimizing your website can be a long and tedious process that requires a strong strategy to see results.
Black Hat SEO
But what makes matters worse, is when SEO is done wrong! Some optimizers like to take shortcuts, and try to trick Google into thinking websites are something they are not. This is called being a Black Hat SEO, and usually results in penalties given to you by Google.
If Google sees that your site is riddled with black hat trickery, then you are going to get hit with penalties that will directly affect your rankings on search pages. If your SEO is a black hatter… try to clean your site of any spammy backlinks (like link farms or spam blogs), and any keyword stuffing that may be present in your website. Once all this is cleaned up, you should start seeing more genuine traffic coming to your website.
Not Responsive or Doesn't Work on Mobile
Responsive web design involves changing the way websites look in relation to the size of the screen it is being presented on. Because of this, we can look at websites on our phones or laptops and still be able to consume the content we want - no matter the device.
In 2018, over 50.3% of global web traffic is generated by mobile users. If your site isn't up to the standards of today then it may be time for an upgrade… Users tend to treat unresponsive websites harshly, and can result in traffic losses and high bounce rates.
Your site not being responsive could be a major reason for why people are not coming to your website. Go Top Shelf specializes in responsive web design and can help with any questions you may have.
Bad User Interface & User Experience
When a website has a bad user interface it is directly related to the user experience (or UX for short). Users tend not to stay on websites they have a hard time using properly. So, it's extremely important to take every action your user is supposed to take on your website seriously.
A proper user interface will have a clear direction that tells the user where to go to find the information, product, or page they are looking for. This is done through a clean responsive design, sharp call-to-actions, and easily identifiable buttons or menus.
If you think you are having UI/UX problems - try to look at your site in a different way than you have previously. You know what your site is there for and what it is supposed to do. But the rest of the world doesn't! Pass your site around to your friends and see how well they can navigate through, and if they miss anything important. These are clear indicators of user interface/experience problems.
Schema Markup
Schema markup helps tell your audience more about your site inside your search snippet in the results page. For example, say you are a hotel who has an amazing 5-star rating and would like to show that off to your potential guests. One way to do this, is through Schema markup!
In order to get your 5-star rating to show up in your search snippet, you need to markup your HTML code. You can easily use Google's schema markup tool to do this for most types of websites. Take a look below at the example of a rich search snippet full of schema markup.
All of the information presented here was done with the help of schema markup. From the field size information to the links to the different sections of the page. Users can see lots of different data before they even enter the website.
Modifying your site in similar fashion can greatly increase the chance that a user will want to visit your site. It's important to remember though, that schema markup doesn't directly affect search rankings, it just gives Google more information to show their users!
Conclusion
Now that you know a few of the different aspects of why no one is coming to your website, you can start working towards fixing these issues. Strive to provide users with the proper experience you intended. This can be a tough process, but is 100% worth it in the end. Websites do not come to life instantly, and it is up to you/your team to determine what needs to be fixed and how to do it. And if these tweaks fail fail to bring in the traffic you're looking for, you could always try some digital advertising to get people to your website!
Real estate referrals get you higher quality leads for your business than any other strategy. Read on to find out how to get more referrals from your clients.
What is real estate PPC? Why should you use it for your business? Here's everything you need to know about pay-per-click advertising for realtors.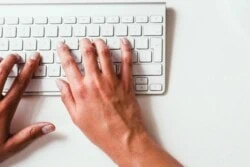 Whether you're a legal firm or a real estate agent, it's important that you get eyes on your landing pages. Here's how to do landing page SEO in 9 steps.
More Articles From Our

Blog
Real estate referrals get you higher quality leads for your business than any other strategy. Read on to find out how to get more referrals from your clients.
What is real estate PPC? Why should you use it for your business? Here's everything you need to know about pay-per-click advertising for realtors.