How do SEOs utilize social media? An Expert Roundup
Since its inception, social media has been a cause for debate in the SEO world. Do shares and likes correlate with higher rankings? Do they help to increase the E-A-T ratings of a site? Does Google put more weight on certain social platforms over others? These are all questions that most SEOs have spoken to one another about in the past and will most likely keep debating these points into the future.
Google has stated that social metrics have little effect on the actual page rank of a website. But how does social media work for SEOs behind the scenes? Just because these platforms won't get your page to rank #1 in SERPs doesn't mean we shouldn't focus on being active and promoting ourselves through these channels.
So to better understand how SEOs use social media on their own sites, we reached out to 15 experts in the industry to see how they utilize these platforms.
Use Social Media as a Shortcut to the Marketing Team
Jeremy Rivera, Founder of SEO Arcade
Here is a key insight on how social media can improve your SEO efforts. Social media is a shortcut to the marketing team! Instead of lobbing a random email in the HOPES of connecting with someone who can potentially make a change to the website (e.g. add a link to YOUR site), what if you could connect with the person who might make that change directly?
Even better, what if you could interact with them on a personal AND professional basis, showing off your expertise or capability? Well, you can!
Social media allows you to direct message users and teams managing the marketing for your client. Use that connection opportunity to open doors, engage and share their content. Send public replies to their posts that amplify their reach and make you an ally in their efforts. That makes it all the easier when you start trading direct messages, building an opportunity to get links, do co-marketing, or guest author for them.
Use Reddit to Drive Traffic to your Informational Pages
Janice Wald, Founder of Mostly Blogging
People looking online for solutions don't just go to Google; they go to Reddit communities. When Redditors ask for solutions that you are marketing, provide the link without mentioning you are the marketer. This will avoid the impression you are spamming. You will be happy with how many people enter your funnel within hours.
Social Media gives you More Reach and Helps Build Links
Lisa Sicard, Content Marketer at Inspire to Thrive
By using social media, you can spread your blog posts and websites further out online and drive more traffic to your site. This alone in turn can help your SEO efforts with more traffic. If more people visit your website, you have more chances of them also linking to it. That can have an exponential effect on your site!
But aside from that, you can build backlinks. Backlinks can quickly build your domain authority and help your SEO efforts overall.
The major sites like Medium, Facebook, LinkedIn, and Twitter also help your social shares to be seen in the search feed.  They also have a high domain authority ranking, which can help lift your site's authority.
But do note, not all of these backlinks are do-follow links. Many of the sites use the no-follow attribute.  However, either way, they can both draw more traffic to your website, thus helping its SEO along the way!
Building E-A-T Ratings and for Distributing Information
Lefteris 'Leo' Soulas, Founder of Keyword Cupid
There are two main benefits to social media. The first is it helps build up your E-A-T ratings and the second is it allows you as a brand to distribute information to the public in a controlled way. By posting a lot and engaging with your audience, you build up a rapport with your following and in turn, can begin building relationships based on this trust.
When people share your social posts that data is stored somewhere. For example, the Covid-19 pandemic as an event has lots of social activity linked to it and that information is available to us as well as Google. You can use the Social Counter tool on the SignalBoy website, to see how many people have shared a page from your site on different social channels.
This is important because, in terms of an event happening in the world, it's logical for search engines to expect some sort of behaviour on social media. If someone didn't share anything at all, how does Google gauge the event and the pages talking about it?
If we think about this in terms of the content we create on our websites, if someone doesn't share our articles or they aren't being talked about on social media, how does Google gauge this information? Would they think the page is less trustworthy? Only through further testing and analysis will we find this out.
Building Relationships and Promoting Other Content Creators
Ryan Biddulph, Founder of Blogging from Paradise
I use social media as a gateway activity for boosting my SEO juice. I promote fellow bloggers on Twitter and Facebook, publish comments on their latest Facebook posts, @reply to them on Twitter, and forge friendships. Blogging buddies I make through social media link to my blog organically, offer me guest posting invites, and pretty much boost my Do-Follow backlinks exponentially based on builds I established through social media. Use social media to promote other bloggers and to engage bloggers genuinely. Observe how your blogging friends increase your SERPs by offering you valuable Do-Follow backlinks through organic mentions and guest post invites that you accept.
Branding, Citations, and Content Promotion
Marcus Miller, SEO & Google PPC Consultant at Bowlerhat
Social and SEO. This is one of those things where there is not always a linear connection between your social efforts and SEO results. But, social media is 100% a tool that you can use to help you in your SEO efforts.
A few examples:
1. Citations & Co-Occurrence - Googlers like Gary Illyes (1) and John Mueller (2) often talk about how the way that people talk about your business and the consistency of what is said can impact rankings. So, it naturally follows, that social profiles can make for a useful citation for all businesses if you carefully consider how you describe what you do. It's not rocket science to give Google a clear and consistent signal regarding the way you talk about your business, where you operate, the services you provide, etc, so the search engine can triangulate all of these factors to help ensure they perfectly understand what you do. So, I am a big fan of ensuring your social profiles are
2. Content promotion - we all know that links are important, but links from social won't help you rank. However, social promotion of your content can get that content talked about and shared by the right people. It also gets your content in front of humans. Some of these humans will have social profiles and websites and blogs and can, in turn, engage with, share, and often link to that content (that is, of course, assuming you have created something truly valuable and unique - if not, then all the social, and SEO in the world, won't help).
3. Branding - I am also a big fan of owning the brand search and often, it can be easy to rank high authority profiles like Facebook, Youtube, Twitter & Instagram to help ensure you dominate the search results for a search for your brand name.
Broadly speaking, these three strategies are the best way to utilize social to help with your SEO campaigns.
Highlighting Reviews and Video Testimonials
Marcin Stryjecki, SEO Project Manager at Booksy
We have a dedicated testimonial section where we publish our clients' success stories in a video format. We also post that on YouTube and share it across our social media profiles. These really boost engagement, improve user behaviour, and increase conversions.
Sharing Blog Posts through Employee Professional Networks
Jacek Zmudzinski, Senior Marketing Specialist at Future Processing
Our new entries on Future Processing's business blog are shared by the employees across their professional networks, mostly on LinkedIn. This improves the performance of the blog posts and creates more awareness that we're alive and kicking. While social media activity is not a ranking factor at all, sharing the posts periodically maximizes their performance via referral traffic.
To Improve Behavioural Signals and Boost Referral Traffic
Marcin Jablonski, Chief Commercial Officer at LV Bet
We treat social media as just another marketing tool or channel that allows us to reach our prospects and customers. Not everybody reads guest posts published via our content marketing efforts, but we've got plenty of followers on various social media profiles. This allows us to improve behavioural signals when people come to visit our website such as dwell time and bounce rate. While these signals are not as effective as from organic traffic, it gives us a considerable boost in referral traffic. There's a correlation between social shares, likes, and engagement in general, and website rankings, which makes me think that these do have an impact.
Connect with other Experts and Get Involved with Groups
Minuca Elena, Founder of https://minucaelena.com/
I use social media as a tool to achieve my SEO goals. I particularly like Facebook, I use it to connect with experts and influencers. Whenever I mention another internet marketer in my articles I tag them on social media and ask them if they could share the post.
I have also found a lot of support in SEO groups from which I've learned a lot.
Social media has helped me strengthen my relationship with other people from my industry and to build a strong rapport. That has led to a lot of opportunities to get backlinks and guest posts.
Drive Engagement and Prospect for Links
Jackie Owen, Founder & SEO Coach at TechJackie
For me, I use social media to help drive engagement to my websites, as well as clients'. For years, Google has known that they do look at positive engagement from users as a ranking factor. Moreover, sometimes I also use it to connect with link prospects, say for guest posting rather than emails as social media allow us to connect on a deeper level, hence could give a better success rate for some industries.
Post High-Quality Social Media Content that is Shareable
Mariia Kovalenko, Content Writer at Digital Marketers World
On the surface, it might seem there is no real connection between SEO and social media, but the very content you share on your social accounts is the factor that indirectly impacts your rankings.
That's why we put as much effort into creating high-quality social media content as we would do for a blog or any other platform. The content should be shareable, and here's what I mean by that:
Delivering value
Appealing to the target audience's interests
Visually appealing
Entertaining
I should say, out of all these features, the offered value definitely stands out. Put yourself in your target buyer's shoes and ask - will I read this content? Can I put it to use? Do I want to share it with my peers?
If the answer is yes, you have shareable content on your hands. How will it impact SEO? When people spread your content around, it creates social signals showing that your content is useful.
Create a Strong Social Media Presence to Drive Traffic and Brand Exposure
Anastasiia Potashina, Community Manager at Digital Olympus
Unfortunately, social media is not among the ranking factors, meaning it does not affect your rankings directly. However, it may become a helpful tool to aid your SEO efforts, if used correctly.
A strong social media presence may become an additional force driving traffic to your website and improving your brand exposure, thus enhancing your website ranking.
There are multiple ways to utilize your social media to support your SEO efforts, and here are just a few of them:
Always use your social media channels to promote your website content to reach a wider audience and drive traffic to your website.
Create high-quality content which provides value to your target audience.
Recycle your content: present the information using different types of content, such as podcasts, blog posts, infographics, etc.
Post frequently, and feel free to link to your website. Note: always ensure that your content is not too flashy -- spammy content/social media profile is never a good idea.
Consider collaborating with industry experts to kill two birds with one stone: provoke the generation of unique content, and boost engagement.
To Network with Freelancers and Other Professionals in Different Industries
Dima Suponau, Co-Founder of Number For Live Person
I use social media to increase my results in SEO efforts quite often. Especially when I need to reach someone, for example, freelancers. It is interesting that they often do not add their email or any other contact information under their articles, but it is so easy to reach them by social media accounts.
I always wonder why it is like that since these articles are examples of their craftsmanship and they should be interested in being reachable directly by people who are interested in their work.
It will take me a while to count how many people I found and start to work with by social media. They often use emails for strictly formal purposes and in the social media world, it is so much easier to do business with people, find guest post opportunities and partners open to exchange links with me.
An Informal Approach for Link Prospecting and to go Viral
Neal Taparia, Founder of Spider Solitaire Challenge
Social media is a whole new world for your SEO efforts and it has its own set of rules. When you do email outreach, you tailor the perfect email that is catchy, engaging and persuades the receiver to cooperate with you.
Those emails are full of "Your article is very good" or similar phrases that are put there to be nice and charming, but in fact, your addresser knows that you have not read their article and find these emails annoying.
In social media, it is far more informal than in email outreach. You can casually find someone and write to them in comments or a private message "Hey, do you want to collaborate with me? I can give you this and this for this and this" and that is all. This is completely fine in a social media environment.
Additionally, not only is outreach simpler by the use of social media. Creating engaging posts that have an opportunity to go viral in your niche can generate breathtaking traffic on your website and far higher conversion than any other of your SEO methods. What are the features of viral posts? That is the thing that only the Internet knows and it is like a lottery, but for me, it is worth the effort.
To Gain More Exposure and Backlinks
Stephen Hockman, Founder of SEO Chatter
Social media is my new link-building platform for SEO and it's delivering amazing results.
With everyone's inboxes getting spammed with outreach emails, it's hard to cut through the noise and get noticed. Most people who get these types of emails delete them immediately or try to charge you for a guest post or link insertion.
But with social media, you can engage with a specific site owner from who you want a link and build a real relationship. Plus, if you're actively posting about search engine optimization tips and news on your social accounts, it proves that you're a trusted member in the SEO industry and not some fly-by-night person just looking for backlinks.
This strategy makes it easier to get a guest post or link insertion without paying for them or getting your message deleted.
I've also benefited from social media by having other SEO experts reach out to me and ask me to participate in podcast interviews. When you participate in social conversations, you get noticed. And that has given me free exposure for my brand and a backlink to my site from high authority domains without hunting (or begging) for them.
Conclusion
From boosting on-site metrics to promoting content and networking with other professionals, these are some of the key ways SEO professionals use social media. Providing value to your users through social media can take many forms, such as high-quality content, information, and industry insights. Like other SEO tools, social media certainly has its pros and cons, but understanding how to utilize the tool to reach your goals can make a significant impact on the success you'll see in the digital marketing arena.
Real estate referrals get you higher quality leads for your business than any other strategy. Read on to find out how to get more referrals from your clients.
What is real estate PPC? Why should you use it for your business? Here's everything you need to know about pay-per-click advertising for realtors.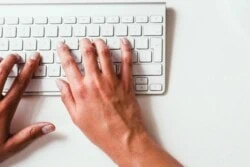 Whether you're a legal firm or a real estate agent, it's important that you get eyes on your landing pages. Here's how to do landing page SEO in 9 steps.
More Articles From Our

Blog
Real estate referrals get you higher quality leads for your business than any other strategy. Read on to find out how to get more referrals from your clients.
What is real estate PPC? Why should you use it for your business? Here's everything you need to know about pay-per-click advertising for realtors.