21 Of The Best WordPress Plugins For Your Website
Over a third of the websites on the web are built with WordPress, and one of the reasons for its insane popularity is because of one word: Plugins.
WordPress uses plugins to speed up web development and include bits of functionality to a website instead of coding straight from scratch. As you can probably tell, this saves you tons of time and money when setting up your site!
So what are the best WordPress plugins to use? I created a list that is separated into categories listing some of the best WordPress plugins out there. Scroll through the list or jump to the section that's most relevant to you.
Table of Contents:
SEO Plugins
---
Yoast (Freemium)
A proper SEO plugin is needed to get the most out of your WordPress site. These plugins make your life easier, and give amazing recommendations on how to further your rankings in search engines.
Yoast is one of the most popular SEO plugins on WordPress. It is highly recommended by thousands of people, and boasts a 5-star rating on the WordPress plugin store with 25,000 reviews and over 5 million downloads.
Some of Yoast's features include XML sitemap generation, keyword optimization, breadcrumb control, duplicate content checker, internal linking suggestions and content insights.
Rank Math is (in my opinion) Yoast's greatest competitor at the moment. With a gigantic range of features that trumps every other SEO plugin - Rank Math is sure to take the spotlight in the coming years. This plugin can do everything Yoast premium can do, but without the charge.
One of the best things about Rank Math is its Schema Integration. Easily markup your products, service pages, and blog articles with Schema so that search engines can decipher your content more precisely.
This is an important feature that Yoast should have implemented a long time ago.
That isn't to say that Rank Math is without flaw. We ran some tests we found a few technical issues that needed to be handled. Like star ratings only being displayed in round numbers, and issues with our breadcrumbs.
We contacted their support, and they were quick to help out. Later on the developers implemented an update to specifically handle the error we were having with our breadcrumbs.
+1 to Rank Math!
The team behind this great plugin is very ambitious and have lots on their plate. It's not quite perfect, but having a plugin with this much functionality is great to use with any site. Give Rank Math a try on your next project!
Anti-Spam Plugins
---
Akismet (Freemium)
Akismet protects your forms from harmful bots and spammers across the web. Without proper spam protection, your website can look very unprofessional, and become a giant red flag for potential customers. It is responsible for eliminating over 7.5 million spam comments every hour!
Akismet is the #1 anti-spam plugin created by Automattic, (the same guys that created WordPress) and is available for free on the WordPress plugin store. Implementation is easy to do, and is integrated into other WordPress plugins like Jetpack, and Contact Form 7.
It is one of the best WordPress plugins available, and should be present on your website.
CleanTalk Anti-Spam is a universal anti-spam plugin that gets rid of annoying captchas and filters spam on a whole nother level. It works off of the cloud-based platform cleantalk.org, and has a wide variety of features.
CleanTalk Anti-Spam has real time email validation, and is compatible with nearly every type of form on WordPress. It can protect your newsletter signups, registration forms, contact forms, and more. It is also compatible with most caching plugins like W3 Total Cache.
Image Optimization
---
Smush (Freemium)
Smush is a popular image compression plugin that reduces the size of your photos so that they meet web standards. If you do not optimize your images for the web, this can cause your website to load extremely slow - losing you valuable visitors.
Smush has some pretty great features like bulk image compression, and being able to set the maximum image resolution for your images. Free accounts do not require an API as well.
EWWW Image Optimizer is a new take on how to automatically optimize images and is a good paid alternative to Smush. Instead of processing the images on their own server, EWWW utilizes your own server to do all the compression. This saves you the time of creating an account to get an API key.
EWWW features bulk image compression, and can optimize images generated by other WordPress plugins or if they are outside of your media-library. Certain plans allow for image backups as well.
Forms
---
Everest Forms is a similar drag and drop form building plugin with a few unique features to Gravity. This powerful plugin can be used to create an unlimited amount of forms with reCAPTCHA, geolocation, and translation support.
Everest Forms also features multi-part form creation allowing for step-by-step forms. The plugin is also compatible with most applications like MailChimp, PayPal, and Stripe.
All forms are highly responsive, and come with the premium level of support Everest is known for. There is a free option and several paid plans available.
Gravity Forms is an easily integrated drag and drop form plugin that is compatible with many different applications like MailChimp, PayPal, and Stripe. It is jam packed with time-saving features, and has 30 ready-to-use form fields that are quick and easy to use. Once you're finished, you can easily embed the form wherever you like.
Caching
---
Want to get your page load times under 1 second? WP Rocket is a premium website caching plugin that costs $39 per year, but it is worth every penny. Caching plugins take care of preloading pages and content so that web pages load faster for the user. They are typically responsible for decreasing page load times exponentially, and raising overall user experience.

With an active support team and dedicated developers - this has become one of the best WordPress plugins out there! WP Rocket has tons of documentation to help you work through any problems, and won't break your site like some other plugins out here...
Begin improving your SEO and page load times by setting up this easy to use caching plugin.
W3 Total Cache is a similar website caching plugin that improves page load times and overall SEO across the site. Their developers claim to give a 10x overall performance boost to your site after installing.
W3 Total Cache is compatible with most servers, and supports SSL and AMP web pages. This plugin also comes with a long list of features to help make the most out of your online experience.
Unlike WP Rocket, this plugin is more difficult to configure and has the possibility of breaking your site completely if it's not properly setup.
Lightbox/Gallery Plugins
---
Easy FancyBox is a simple and elegant lightbox solution for websites built from the FancyBox jQuery library. If you would like to display images in a neat and tidy aesthetic that fits your website  design - you are in the right place.
After you activate the plugin, it will automatically detect any image links and applies a lightbox effect to them. This plugin supports all image formats, and can hosts video straight from YouTube, Vimeo, and Dailymotion.
ARI Fancy Lightbox is a similar lightbox solution built from the FancyBox jQuery library. This plugin, however, comes with a free and paid version. The paid version is loaded with tons of features to help you display what you love most.
One of the key differences between ARI and Easy is the amount of video platforms each supports. ARI supports videos from a wide range of platforms like YouTube, Vimeo, Dailymotion, Metacafe, and more.
The plugin is easy to use right out of the box and works with WordPress Native and Jetpack.  ARI also features one click integration with WooCommerce.
Backup Plugins
---
Updraft is a highly recommended and positively rated backup plugin for WordPress sites. Having a backup program to look after your site is essential in case you ever fall victim to a hack or some other mischievous endeavour.
One of the ways Updraft works is by cloning your website's files and moving them to their own server to keep them safe. Updraft can also backup to most cloud platforms.
It is a easy to use plugin that is fast and tested on over 1 million sites. The premium edition is loaded up with additional features like incremental backups, and multisite/network compatibility. You simply can't go wrong with Updraft.
SnapShot is a premium WordPress backup plugin developed by WPMU Dev. SnapShot is a great alternative to Updraft, and offers 10 GB of backup storage place to start with. Different packages are available for more storage.
This plugin's features include entire site backups or just certain files depending on your configuration. You can commit daily, weekly, or monthly automatic backups, and restore your site with one click of a button. All files are stored safe and sound inside the SnapShot cloud.
User Registration Plugins
---
This user registration plugin has been developed by the same creators as Everest Forms, and functions in a similar fashion. It is a fully responsive, drag and drop registration form builder that can be easily integrated into apps like MailChimp, and WooCommerce.
User Registration features Social Connect giving users the ability to sign in with their social media profiles like Facebook or Google. Other features include being able to upload files directly to the website, and restrict content to members only.
Ultimate Member is a user registration plugin with a substantial amount of features to give you total control over your members.
Assign roles to specific users and create unique registration forms for each role. Completely customize profile pages for users to make them feel at home.
This plugin also has a wide range of administration options to help you delegate tasks and monitor memberships. Control what members see using conditional logic to show/hide different fields based upon the action taken by the user.
One of the downsides to Ultimate Member is its price. It's rather expensive with a starting price of $249.99 for a 1 year license.
For the amount of features and level of support included we can confidently say that this plugin is worth it for the right person. If you require the best of the best - look no further than Ultimate Member.
Ecommerce Plugins
---
WooCommerce is by far the most popular and widely trusted ecommerce plugin built specifically for WordPress. WooCommerce has made waves across the digital ocean giving website owners a way to fully control their online stores.
Typically, most ecommerce platforms, like Shopify, lock you in and if you ever choose to move platforms… you're screwed!
You will have to manually recreate your site on whatever platform you choose afterward. And who wants to do that?
With WooCommerce, you maintain control over your files, and everything else present in your site. After all, it is your website…
Some of the features that WooCommerce includes are a simple and clean UI, content integration, pre-installed payment gateways, automatic taxes, and total control of the checkout process.
Easy Digital Downloads (EDD) is a WordPress plugin designed for selling digital products that require a download to be received. It works straight out of the box and can be easily installed to get your storefront up and going right away!
EDD can be used to sell eBooks, software, or pretty much any other digital good. The plugin uses a checkout system to send the download straight to the users email quickly and hassle free.
Remember that this plugin is specifically designed for digital downloads, so avoid trying to sell physical products with this system.
Email Automation Plugins
---
MailChimp is the world's leading email automation software used by millions of people across the world. Their wonderful WordPress plugin can be used to create beautiful sign-up forms, and allow you to have complete control over your form fields.
You can recover abandoned carts, while viewing detailed logs and reports to see which forms are performing the best across your site.
MailChimp for WordPress can be seamlessly integrated into a variety of other plugins, and is backed up by a fantastic support team ready to help if you have any troubles.
Thrive Leads is an incredibly powerful email automaton plugin that is meant to help raise conversions and grow your following. As the team behind this amazing product puts it "Thrive Leads is the list building solution that's created by a team of people who are obsessed with conversion optimization." and they aren't wrong!
Some of the features included in Thrive Leads are advanced targeting options, A/B testing engine, and actionable insights and reports. Thrive leads gives you the tools you need to properly analyze your email lists and raise conversions.
Page Builder Plugins
---
So much more than just a plugin, Elementor is one of the most popular website builders, and definitely the most popular WordPress site builder.
If you have your set on a winning WordPress site but either can't or don't want to code, You're going to want to consider using Elementor.
With its intuitive drag and drop editor, 90+ widgets and hundreds of designer made templates, just about anyone can create the website they've always dreamed of. Elementor now offers cloud hosting for WordPress. You can now rely on the site builder to create and host your WordPress site. Plans start at $99 per year.
Conclusion
This concludes Go Top Shelf's top 21 WordPress plugin list! WordPress plugins are a powerful way to enhance your website without the need for an expensive developer to create custom functionality for your website. These plugins will greatly increase your time saved, decrease page load times, help build subscriber lists, and protect your site against hackers and other mischievous activity.
What are your favorite WordPress plugins? Let us know in the comments below!
Still wondering if WordPress is right for you? Check out this article to clear up any questions you have.
Topics We Covered:
Page Builder Plugins
If you require any help setting up these plugins, or just simply don't have time - check out our WordPress services page or give us a shout. Were always available to help!
Real estate referrals get you higher quality leads for your business than any other strategy. Read on to find out how to get more referrals from your clients.
What is real estate PPC? Why should you use it for your business? Here's everything you need to know about pay-per-click advertising for realtors.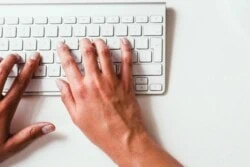 Whether you're a legal firm or a real estate agent, it's important that you get eyes on your landing pages. Here's how to do landing page SEO in 9 steps.
More Articles From Our

Blog
Real estate referrals get you higher quality leads for your business than any other strategy. Read on to find out how to get more referrals from your clients.
What is real estate PPC? Why should you use it for your business? Here's everything you need to know about pay-per-click advertising for realtors.