The Best Email Hosting Service For Businesses
Deciding which email provider to go with can be confusing and slightly overwhelming for some people. With so many options to choose from - it can be quite difficult to decide which route to take.
Afterall, in order to keep your brand important in the eyes of your customer… you should be engaging them with relevant content straight to their inbox.
So what is the best email hosting service for businesses? In this week's blog post we are going to talk about the different email providers out there, and help you find the perfect match for your needs. We have you covered so you can properly choose from the premium email hosting services to the freebies!
Here are the three types of email service we will be going over today:
Premium Email Hosting Services
Email accounts that are hosted on services like Office 365, or Zoho require a monthly/yearly payment and are typically a business's best option. You can use your own domain name and customize your options so the service is a correct fit.
Some of the pros to a premium email are advanced security options, great support, and ease of connectivity. You also get guaranteed backups in case something goes wrong which is always a bonus.
However, premium emails can lead to high costs in large teams. These services tend to charge on a per-user basis - so the larger the team - the larger the costs.
Pros To Premium Email Hosting Services:
Lots of options to choose from
Most premium email services offer a wide range of options to choose from allowing for lots of customization. Some of these features include instant messaging apps and increased email storage.
Cheap storage
Unlike web server based email accounts - premium services offer high amounts of storage for relatively cheap prices. For example, Rackspace charges $2/month for an email account with 25 gb of storage.
24 hour support
Most of these email services serve a global audience, and require 24/7 support. Rest assured that you can fix your problems right away if they ever do arise.
Email backups
Who doesn't love backups? They save you time and tons of headaches. Most premium services offer automated backup systems to keep your data safe.
Better Security
Premium services have invested in better encryption systems to keep your data private, and away from the hands of pesky hackers. It is keen to remember that no email security system is foolproof, and you should always be diligent about what you do with your information online.
Virus & malware protection
Your service provider should offer virus & malware protection to keep your email safe from any infected files that get sent to you.
Cons To Premium Email Hosting Services:
Charges Per-User
Premium services tend to charge for each individual email address you require. This can be expensive for large teams and organizations.
Tough Configuration
The initial setup of your email accounts and integrating them over to apps such as Outlook or Gmail can be quite daunting. Check with your service provider to see how streamlined the process is. Normally there are lots of guides to help, and the provider will often provide support.
Our Recommended List Of Premium Email Hosting Providers
Web Server Based Emails
If you have purchased a domain before you may have been offered a free email account to get you started. This is an email hosted directly on your web server where your website would normally be hosted.
As great as it may sound… these email providers can cause you some serious issues if the email is not configured properly.
One of the biggest problems these types of emails have is getting marked as spam. Once your account is flagged as a potential spam email, it can be tough to get into people's inboxes.
You also want to make sure you have email backups so you do not lose vital business or personal information. Your email server going down can cause a great deal of havoc, so make this a top priority.
These servers can also lack proper security and have a limited amount of storage space depending on the provider you choose. Make sure to do your research into your hosting provider to see how they handle email accounts.
Want to learn more about website hosting companies? Check out our article on the perfect hosting company for you
Pros To Web Server Based Emails:
Often free with your web hosting
Hosting providers will typically give customers a free email with the purchase of a domain/hosting package.
Monitor and manage email accounts right from your cPanel
Create and manage all of your companies email accounts straight from your cPanel. Make as many email accounts as you want and monitor access/storage for each one.
Cons To Web Server Based Emails:
Easily marked as spam
Web server based emails can be tough to configure properly. This can lead to issues that can land your emails straight in the junk mail of your customers.
Potential for security problems
Depending on the provider you choose, their security could be lacking. Make sure whichever company you choose has the proper encryption in place to keep your information safe.
Limited storage
The free packages associated with hosting packages come with extremely limited email storage. Customers usually have to upgrade to paid plans in order to get more storage space.
Our Recommended Web Server Based Email Providers
Free Emails
I would like to start this section off by saying: Business owners should stay FAR away from free email services. They look very unprofessional and aren't perceived well by customers and other businesses alike. It is always worth the $5-10/month investment to have your own company email.
Most of the kids around today have made an email or two with a funny username, and they created these accounts on free email services like Hotmail or Yahoo. These services utilized their domain name as an advertising tool to spread their name… and boy, did we ever do that!
Besides all the crazy emails we've created over the years - free emails have become a cheap and reliable way for everyone to have an email. I personally use free email services to store most of my spam and to keep my personal email less cluttered.
No one likes sifting through thousands of junk mail from all the countless sign-up sheets you've filled out. Right?
Nope!
There are some cons to free email services, of course. Like being easily marked for spam and ending up in your recipients junk mail, and limited support options in case problems arise.
Pros To Free Emails:
Free
Free emails are just that - completely free!
Highly Accessible
Access your email from any web browser as long as you're connected to the internet
Easy To Connect
You can link any free email service to other email services like Outlook or Gmail.
Many options to choose from
There are literally hundreds of free email services to choose from. Scroll down further to see a list of our free email service recommendations
Lots Of Storage
Most free email services come with an average of 25 gb of storage space, and allow for attachments up to 25 mb to be sent.
Cons To Free Email Services:
Looks unprofessional
The worst part of free email addresses is how unprofessional they look. Business owners take this as huge red flag, and may disregard your email completely based on this alone.
Cannot use your own domain
You pay for the free email by advertising their domain on the end of your email address. Therefore, you cannot use your own domain.
Limited Support/Lack Of Backups
If you ever lose your emails and all of your precious data… the recovery of these items is the responsibility of your provider. However, this may takes days or even weeks to recover. Your data may be sitting in a server halfway across the world.
Easily marked for spam
Free email services are easily marked as spam, and emails sent typically end up in your recipient's junk mail.
Our Recommended List of Free Email Providers
The Best Email Hosting Service: Conclusion
Emails are an important part of any marketing strategy, and the service you choose should give the best possible options to make your marketing team's lives easier. That's why In this article we went over the pros and cons of the many different email providers, and how they can help your business. From the premium services like G Suite & Rackspace, to the free services like ProtonMail and Outlook, we hope we covered the basics to getting your email started.

Don't want to be bothered? Go Top Shelf specializes in helping business owners attain their piece of the digital world. Let us help you with any stage of your website process.
Real estate referrals get you higher quality leads for your business than any other strategy. Read on to find out how to get more referrals from your clients.
What is real estate PPC? Why should you use it for your business? Here's everything you need to know about pay-per-click advertising for realtors.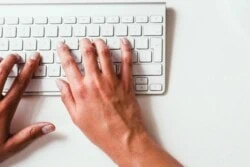 Whether you're a legal firm or a real estate agent, it's important that you get eyes on your landing pages. Here's how to do landing page SEO in 9 steps.
More Articles From Our

Blog
Real estate referrals get you higher quality leads for your business than any other strategy. Read on to find out how to get more referrals from your clients.
What is real estate PPC? Why should you use it for your business? Here's everything you need to know about pay-per-click advertising for realtors.